I am currently not yet back in Australia yet so I have taken a second weekend trip out of Jakarta to visit more of the beautiful remote islands of my AWESOME country … Indonesia.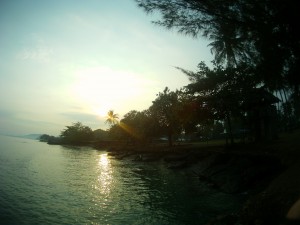 Pulau Sangiang lies in the Sunda strait (or Sulat Sunda) right between the Indonesian islands of Java and Sumatra. The way to arrive to this island is to leave of the coast of Anyer by boat. Anyer is about a 3 and a half hour drive from the main city of Jakarta so you need to find your way to the docks in Anyer to board your boat to the island. It's a much less crowded nicer boarding area then what you will find when you travel to the "Thousand Islands" in Muara angke.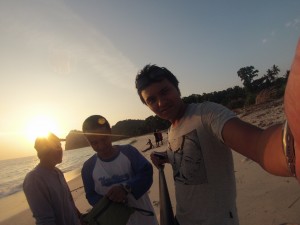 So what happened on Day 1:
The boat ride is about 2 to 3 hours depending on which part of the island you want to land on and what you want to see on the island.
As the boat sailed along the coast of the island there were lots of coral reefs to be seen and many steep cliff drops with caves down below were the water would break and swirl around. It was an awesome site and something I haven't seen before. When I travelled to Pulau seribu the islands didn't ahve high or steep cliffs, they had shallow coral slowly receding into sand so this was something totally different.
We passed a few boats and many people on the boats had wetsuits on so it seems that there were many different diving sites that we passed along the way to our main location. When we finally arrived at our location we took the boat for a detour down some mangroves and looked at where the ocean meets the rivers. What I found interesting was the transition of water colour from the clear blue, turquoise colours to the green muddy colours as we got further inland.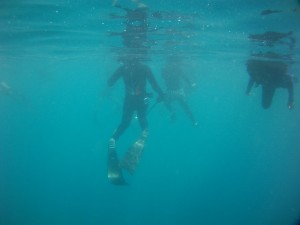 After we made some rounds in the mangrove area everyone just couldn't wait to get wet and jump in the water. The boat turned around and we headed straight back to the ocean !! Yeaaaaaahhhh. I was already in my wetsuit ready to jump in and enjoy the ocean. As a result of our little mangrove detour i was already sweating big time in my suite … honestly, it felt like a freaking sauna under the hot sun and everything zipped up

When we were at the spot I took my GoPro into the water, washed my mask, cleared and rinsed my snorkel and jumped in. After about a few minutes of taking some warmup dives I was ready to start recording on my GoPro.
Freaking disaster, I saw condensation in my GoPro and I couldn't turn it off, the camera seemed to be non responsive. It seemed to be stuck and it was probably because of the small amount of fluid that got in. Fuarrrr … is my GoPro stuffed ?! I got out of the water, took it out of its case and left it out for a while. When I rechecked the GoPro everything was fine so I had a feeling my case wasn't sealed tight. As a result of this I had concerns taking my camera in the water so I left it out for the whole weekend. I did many dives through some really awesome coral but didn't capture it on video. Would rather keep my GoPro live another day and wait for a new case then risk taking it in again

It didn't matter though not having the GoPro allowed me to dive without having to hold a camera and allowed me to enjoy the water without having to be concerned about whether the shot came out good or not. Sometimes you just need to get into the water to just be in the water and enjoy the feeling, not think about recording or anything else.
The water was nice, i swam down the steep ledge to about 10 meters and just enjoyed the peace and quite whilst looking at the fish and coral, I lay on my back for a bit and then slowly floated up …. beautiful feeling. After spending some time away from the group, I noticed that some of the other guys where dropping a line and taking photo's so I decided to join them and do some line work.
We took turns using the line and budding up with each other to make sure we were all safe going down and coming back up. Safety First


During the day we moved to various different locations around Sangiang island to experience the reefs and enjoy the diving. Some reefs were very shallow then veered steeply into a very deep trench, these were pretty nice locations to practice depth as we didn't have to move to far from shore.
One of the best parts of the trip was the sunset, it was an absolutely awesome view and something I hope to see again. I'll be prepared with a proper camera next time. I wont write to much about it but you can see the trek up to the beach where we viewed the sunset in the video above.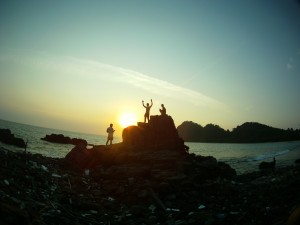 Three of the divers were also avid spear fisherman and managed to rack in some nice fish, we had some grupers, sting rays and an assortment of other fish as well as some chicken, rice and tempe prepared for us. The fish was grilled on an open fire and some nice chilli sauce was added to it … such a great dinner !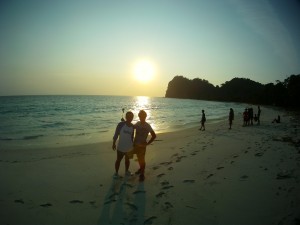 The worst part of the trip was the sleeping conditions ! Because i slept late i had to sleep outside. Most of the time I have no concerns about sleeping outside but in this case the mosquitos were out in flock and they were taking out big chunks from my feet. I had covered up with long pants and had long sleeves on and the only exposed part of my body (which was my feet) was taken advantage of by the mosquitos. It got so annoying i went inside, told my cousin (who also came) to shift a little so I could also sleep indoors !

So what happened on Day 2: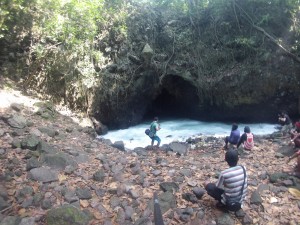 On day two we trekked out to one of the caves and looked into a cave that stretched from inland out towards the open ocean. Waves would come into the cave from the outside straight onto the island. This particular cave is infested with bats and reeks of bat crap BUT there are also sharks swimming in the water ready to pluck and eat bats that fall in. Joining the sharks there are also large lizards taking its own fill of bat

After we took pictures and explored the area we went back to the main cabin location, had some coconuts and departed on our boat. We headed to one last dive site where we took some turns on the line and I was explaining to one of my friends how to equalise by going feet first down the dive line. One of the difficulties with teaching this method is if you want to pull UP on the rope you need to find a place to tie it down. Looking for a big rock was difficult but eventually found one and was able to go up and down the line easily.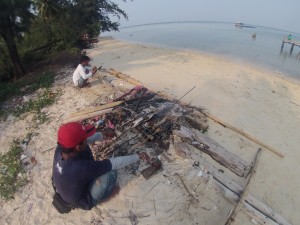 This time the spearo's did well and managed to get about 7 fish all up. There were some really nice ones (can't remember the names). Some were fried and some where thrown on the open fire and once the fish was cooked, everyone would dig in like a pack of hungry wolves … (hey its understandable .. diving does that to you, it makes you dam hungry)
After lunch we had our final trip back by boat to the Anyer where we initially departed from. The boat trip back started of pretty smooth but then got really really rough. I (as usual) was on the roof of the boat and was rocking around all over the place, at one point it did get pretty scary and I had to hold on but after a while the seas got smooth again.
We finally landed back at Anyer, had a shower, loaded our stuff onto the bus and left to go back home. Such a totally awesome trip and something definitely different then usual. I'll try to get back to Sangiang again if I get the chance and take some proper underwater pictures of the nice coral there.
Until next time …. have a good one !