So we had more freediving fun in Pulau seribu. Not much else around jakarta when you want a quick get away from the hustle and bustle !
Even though Pulau seribu is close to get to from Jakarta its not to say its not an awesome place to go and do some free diving and to just generally relax. This time Mark and I headed of to Pulau Harapan as our main island. From Pulau Harapan we threw all our gear into our cabin and rented a boat for two days just dedicated to taking us to all the different islands within the Vicinity so we could have a diving buffet !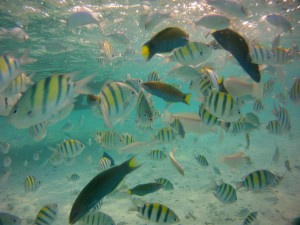 Boy was that the right choice. We just went from Island to island,enjoyed all the different coral in each of the areas and swam with fishes, turtles and other marine life. In comparison to say Pulau Pramuka, Pulau Harapan was much cleaner much nicer and the accommodation was slightly better. What I also liked more was the food so good job to Pak Wawai and team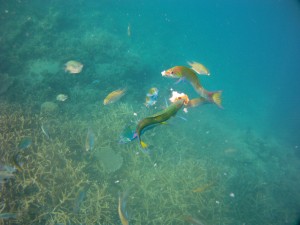 The boat that we hired was dedicated just for us and took us between Kayu Angin, Gentang, Macan, Tong Keng and Belintang. There were so many beautiful islands next to each other and unique in their own way, specially in how the ridges fell into the deep, the fish and the coral.
I would have to say that first day diving was alot better because we were there past 10 and the sun started to angle better into the water so it was much more clearer then the second day. On the second day we were at the dive site by 6 because we had to leave much earlier for Jakarta so we left by about 10:30 just as the sun was getting better.
We also visited an island called Pulau Pasir or sand island which I have to say is rightly named so. This island is just a sand island right in the middle of the ocean, its a picture perfect image of paradise on what I would call a super tight budget. You can view more about that in the documentary of the trip i created that should be posted in the "ocean" section of my blog.
Again, another weekend well spent away from the traffic jam, malls and the hustle and bustle of Jakarta's normal lifestyle. Thank heavens for Pulau Seribu .. enabling us a way to get away to paradise for a weekend to do some diving on a super tight budget !
Love Indonesia … I hope they take care of these islands and ensure they stay beautiful and affordable for future generations.