So its rainy season here in Indonesia ! If you plan a trip to one of the islands its a gamble as to whether its going to be good or bad weather on that day. The best way to fix this problem is to simply not care and go anyway HAHAHAHA ! Take the good ole Aussie approach. "Yeah she'll be right mate" ….

Rain hail or shine, if you plan to go on a trip be happy no matter what the weather is and your going to be sure your trip will be SCHWEEET !

I guess the only consideration you need to take is to ensure that its safe and that you aren't putting yourself or anyone that relies on you in danger. I was somewhat worried about that because there were some new guys on our trip that might have had issues if the boat capsized but it wasn't as bad as I thought and the weather and ocean was pretty good to us. If it was just me and mark, I could imagine that if the boat capsized we would have started laughing and started taking pictures LOL, then only after 2-3 hours if someone didn't come get us we would probably start getting just a little worried (just a little

)
The swell was big on the way to Pulau Harapan so we had to stop for about 1 and a half hours to avoid the big waves but other then that slight "waste of time" mishap it was fine. We had some chop on the way to the smaller islands but for the most part the small nelayan boats held up good.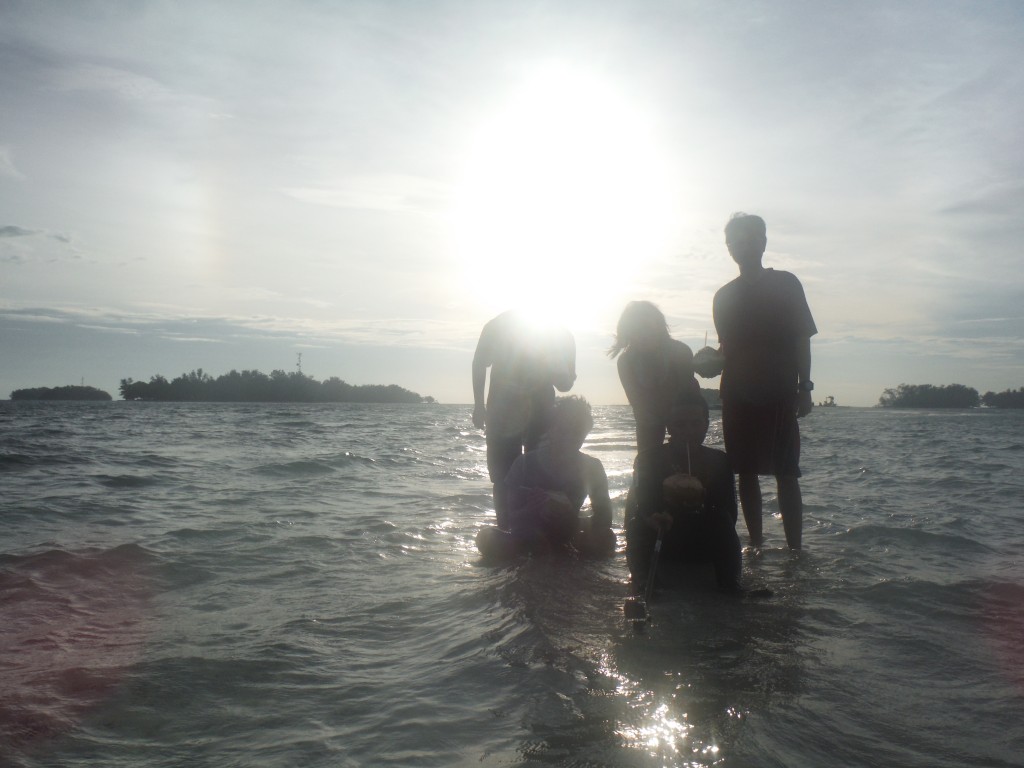 So the group this time was bigger then just the BUMS (me and mark) and it was fun having a slightly bigger group. We had Rafie join us, Widdy (Rafies work mate) and Vero (my work mate). We went to the usual dive locations but this time because of the choppy seas the silt was kicked up from the ocean bed and it made the visibility pretty bad and this did put a slight dampen on our expectations but … it didn't matter cause we were in the water and some locations were much better then others and did have some slight visibility.
So in the group we had 2 light skinned guys Widdy and Vero and 3 dark skinned guys, Mark, me and Rafie. So as the 3 of us went black, Widdy and Vero got red. The biggest standout was Widdy, it looked like he had a red mask and vest on HAHAHA ! Thanks for being a good sport mate … hope you are now recovered and its not peeling to bad.
My skin started to peel after a day and I looked like two-face from batman, people at the malls probably thought I had a skin disease HAHAHA WHATEVER … The sun burn mostly occurred on the first day because the sun was out and strong. Come the second day it was a totally different story.
That night after we got home all painful and burnt we had dinner then played big 2 … yeah big 2 … I don't really wanna talk about it LOL … dumb game … had to many issues with the cards I was being dealt so didn't do too well (plus maybe i'm just shit I don't know)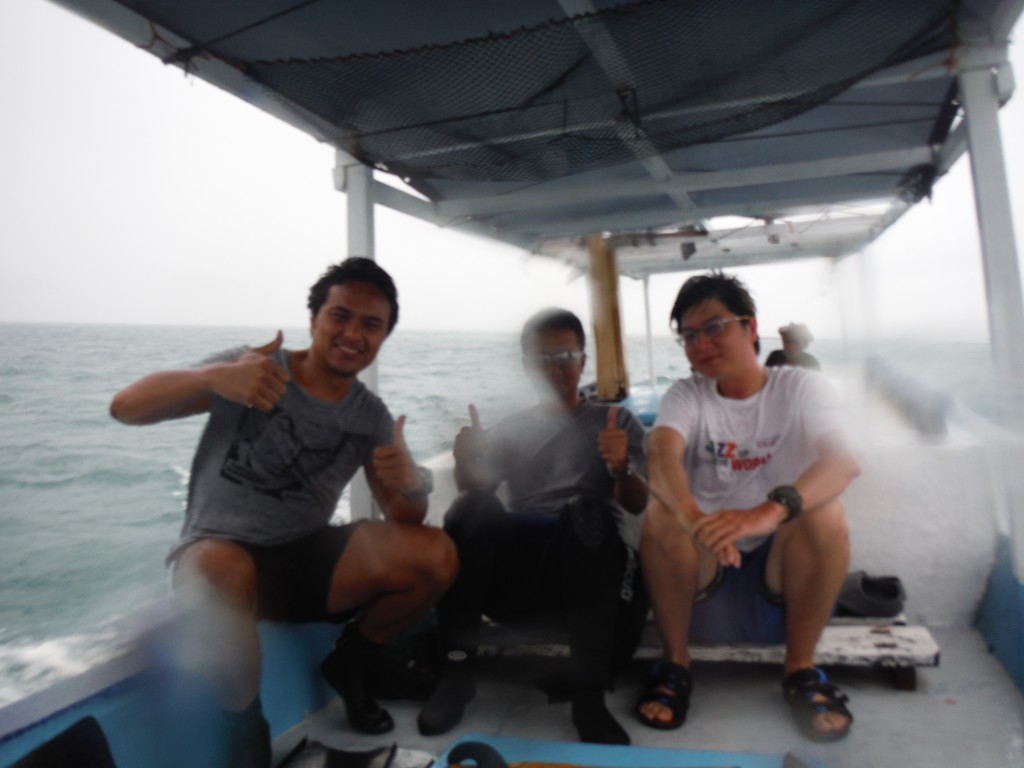 So on the second day it was a completely different atmosphere. The weather was gloomy and it started to rain as well. When we woke up the rain was pretty strong .. BUT .. it didn't matter. We went out and to our surprise pulau perak (where we went diving on this very rainy day) was still very nice and relatively clear. We were able to still have some fun, see some fish and rafie was able to practice his dives and managed to reach the first double digit mark of 10m which is his PB and only second time in open water training.
The boat ride during the rain is actually very different, the water splashing on you and the large waves moving the boat side to side makes for a very different experience. Either way it was fun and a change from the normal boat rides I have experienced when I went to pualu seribu.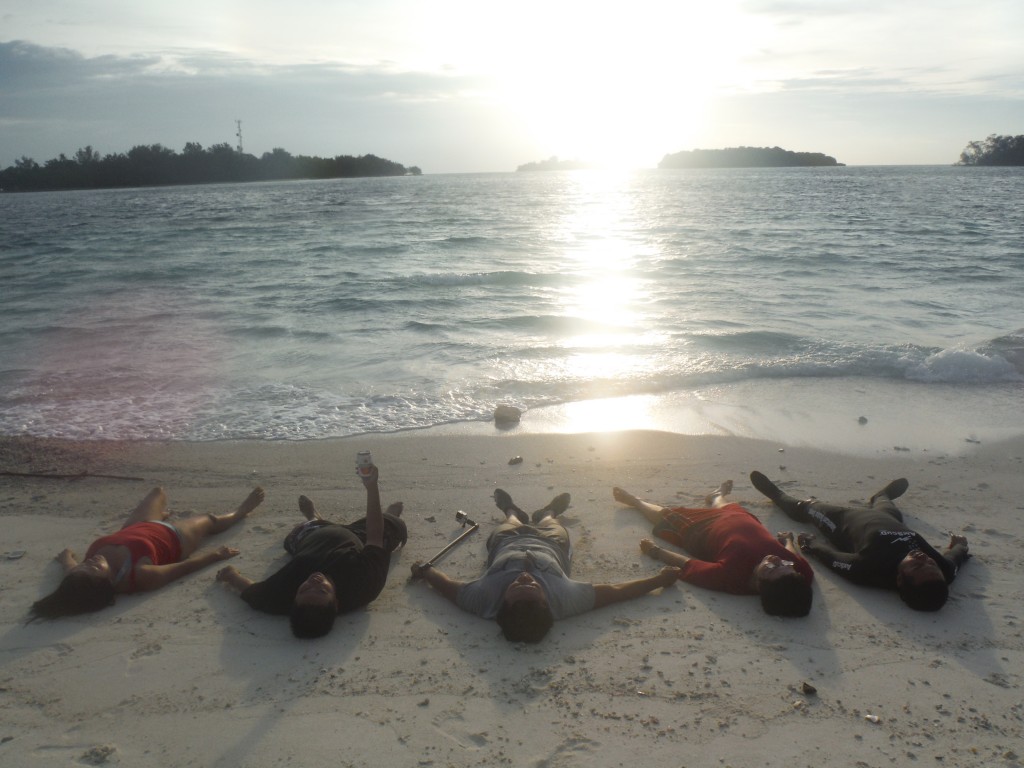 So … yeah … another successful weekend in one of the most awesome and cheapest countries to go for weekend trips I must say. Check out the video above to see a summary of our weekend !
… And thanks for coming to the new guys, hope to see you on the next outing